Pudak Spa
Tropical Rejuvenation
Nothing better than spending a day at Pudak Spa to make your entire visit a sublime holiday. Designed to facilitate the fundamental needs of rejuvenation experience where you will find warm touch, genuine service and comfortable atmosphere.
The spa offering everything from pampering treatments, health rebalancing detox, and life changing practices such as guided session of yoga and meditation. At Pudak Spa with every treatment is a high level of care and sincerity that you simply won't find anywhere else.
Body Massage
STRESS RELIEVER HEAD
This the perfect cure after long flight to reliever tensions. It consists of condensed but complete head, neck and shoulder massage to relieve stress and tension as well as to improve back muscle relaxation using our special blend of oils.
30 minutes
FOOT REFLEXOLOGY
An appropriate pressure to specific point and areas on the feet, lower leg muscle areas and reflex points that correspond to different body organs and systems. This special treatment releases stress and tensions.
60 minutes
TRADITIONAL BALINESE MASSAGE
Authentic traditional Balinese massage pro sure techniques to balance the energy centres and improve the integration of your internal systems, blood circulation and release stress.
60 minutes
PUDAK MASSAGE
Experience our signature deeply relaxing massage technique that used gentle stroke to soothe body, mind, and emotions. A selection of the purest essential oils is chosen and blended with a natural base oil. Essential oils penetrate deeply into your body's tissues for physical healing while their scents enhance your mental, emotional and spiritual wellbeing.
90 minutes
DEEP TISSUE MASSAGE
Special massage therapy that focuses on re-aligning deeper layers of muscles and connective tissue. It helps full chronic muscle tension release and contracted areas such as stiff necks, low back tightness, sore shoulders and high blood pressure.
90 minutes
PUDAK STONE MASSAGE
Uses smooth, heated volcanic stone applied to the body. The heat can be both deeply relaxing and help warm up tight muscles and open the blocked areas to improve blood circulation, revitalizing your body and helps any back pain or cold.
90 minutes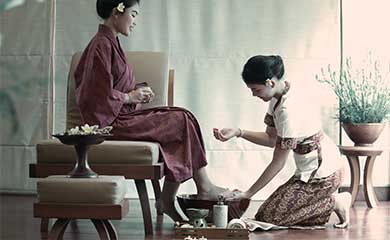 Beauty Treatment
PUDAK FACIAL
A wonderful revitalizing and moisturizing facial using fresh ingredient of yoghurt, candle nut, coconut oil, honey and cucumber. This natural cleansing mask will leave the skin relaxed.
60 minutes
TRADITIONAL FACIAL
A deep cleansing treatment with a special technique for relaxation and comfort. Completed with vitamins needed for glowing skin, concentrating in acupressure point to release the tension on face areas.
60 minutes
MANICURE AND PEDICURE
Well groomed and beautiful hands and feet are necessary for everyone. Our natural manicure and pedicure include nail and cuticle conditioning, nail shaping and buffing.
60 minutes
TRADITIONAL HAIR SPA
A 60 minutes traditional hair spa session to cleanse and revitalize your hair using blends of Aloevera cream. Finished with traditional steam treatment combined with relaxing head, neck and shoulder massage.
60 minutes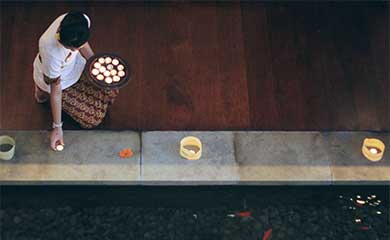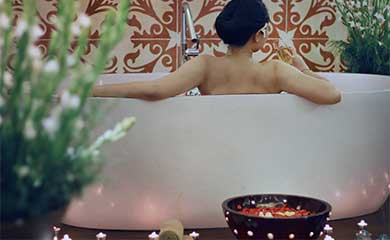 Spa Packages
KING PACKAGE – 2 hours
The King is valiant and handsome male figure who is respected by many people. This treatment helps to soothe stiff muscle, improve blood circulation, rejuvenating their masculine appearance. The treatment included with foot ritual, deep tissue massage, boreh scrub, coffee mask, herbal bath, body moisturizing and herbal drink.
QUEEN PACKAGE – 2 hours
The queen is a beautiful female figure and is admired by many women. The benefit of this treatment is good for self-select, blood circulation. Rejuvenating their feminine appearance. The treatment included with foot ritual, Pudak massage, aloevera mask, aloevera scrub, flower bath, body moisturizing and herbal drink.
DASA BAYU PACKAGE – 4 hours
With a blending of selected varieties this aims to give a memorable experience, rejuvenate and exfoliate your skin as well as relax your body and mind. This package includes foot ritual , Balinese massage, Pramana scrub , Clay body polish , Flower bath , Facial , Pedicure or Manicure.
SRIKANDI PACKAGE – 3 hours
Pampering body and mind to soothe all the tension, this treatment will refresh yourselves from daily routine. It will start with Balinese massage, Javanese scrub, clay mask, milk bath, body moisturizing, hair creambath, drink and food of your choice.
PUDAK WELLNESS PACKAGE – 2 hours
This treatment uses spices consisting of ginger, lemongrass and several others herbs which have a good benefit for health and increasing immune system. This treatment will be included Balinese massage, boreh scrub, ginger mask, herbal bath, herbal drink and healthy food.
SPECIAL COUPLE PACKAGE
KHAMA TREATMENT – 2 hours
A special couple treatment that will help regenerate hormonal system, improve blood circulation and relax the mind from physical mental and stress. It will begin with special foot ritual continue with relaxing full body massage the strokes with long gently touch, finishing with a romantic jasmine bath and glasses of wine.
TRUE LOVE OF PUDAK – 2 hours 30 min
Let us pamper your body with this wonderfully treatment which combines with chocolate aromatherapy massage followed by a sensational chocolate scrub & mask treatment, both designed to promote blood circulation, toning of your skin and elimination of toxin. Finally, time off for you and your love.
SIGNATURE TREATMENT
COCONUT SECRET BEAUTY – 2 hours 30 min
The coconut cleanse takes the journey toward radian health, energy and beauty. Taking responsibility for own health, whilst trusting in the natural healing power experiences. As a result, to learn everything there was to know about this magical super foot. To realize that, there is nothing else like it available on the market today. The treatment included foot ritual, Traditional Balinese Massage, Coconut body scrub, Coconut body mask, face cleansing, flower bath, body moisturizing and drink coconut water.
All prices are subject to 11% tax & 10% service charge.
HAVE A PLEASANT TREATMENT